The last stop on the first part of our tour was Accra, Ghana.  Ghana was a country that I had spent some time in already during a study abroad during my college years.  I had always wanted to go back – but this time with Reg and with a camera!  Unfortunately I dropped my camera in the gutter during my first trip to Ghana and have absolutely no photos from that summer. 🙁  For this trip we opted for a hotel rather than AirBnB so that we would be near everything.  The Roots Hotel Apartment was centrally located in Osu which is one of the main areas in Accra.
Although we loved the hotel, the breakfast was no bueno (example below).  It was definitely overpriced and not worth the additional $24/day charge.
We made a visit to the grocery store and decided this would be better for breakfast and some lunch meals since we were going to be there for two weeks.  The groceries in Ghana were surprisingly not as cheap as I thought they would be.  For instance, the juices below were around $2/ea which is not too far from what I'd expect to pay in the US.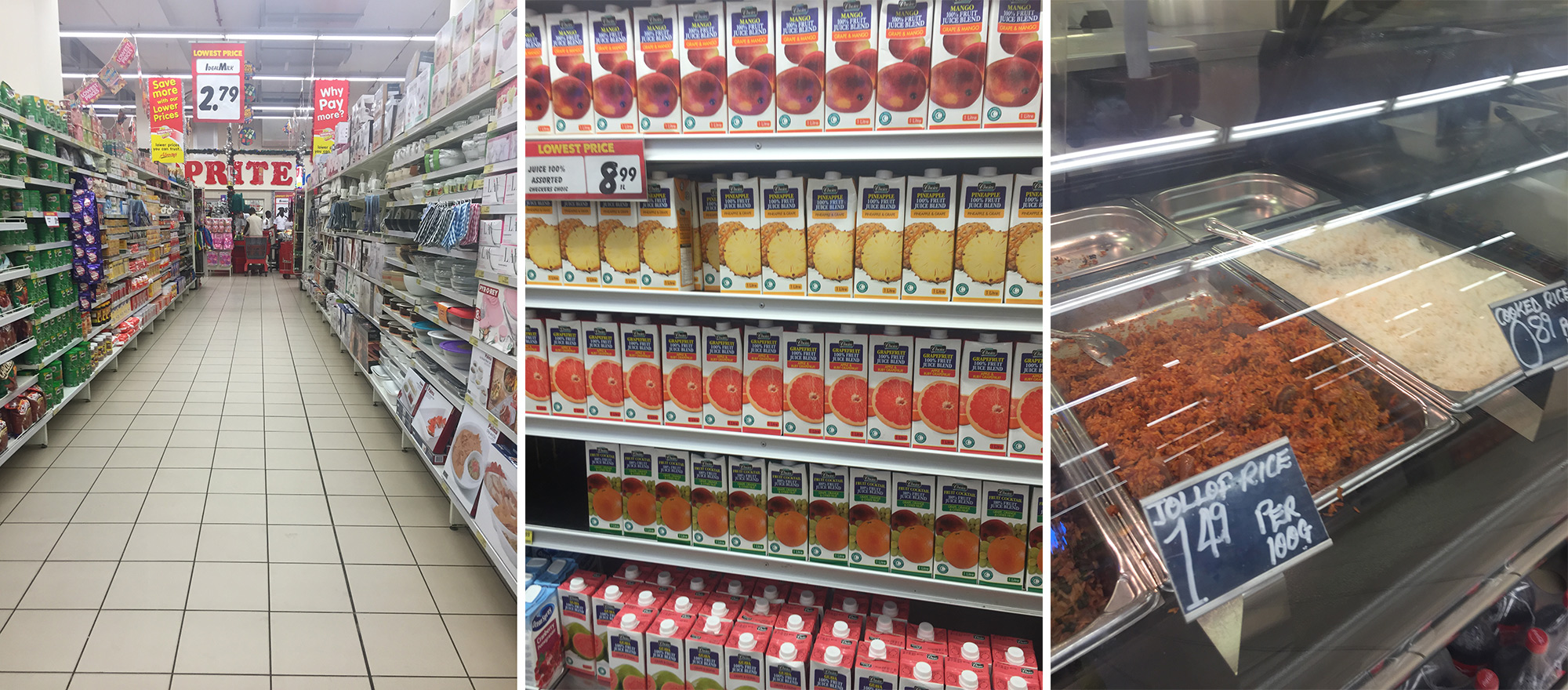 Even though there are taxis everywhere in Ghana we knew we needed to do a little location scouting on our own and explore so we decided to rent a car.  Renting a car in Ghana was not as easy as some of the other locations without a Ghanaian driver's license, but luckily we were able to rent with the help of a good friend in Ghana.  Driving is a bit of a free for all so be prepared to be a very aggressive driver while there if you decide to rent a car.  Our first stop was Makola Market which is one of Accra's largest and most popular markets.  You can find a bit of everything there from food to clothing, toiletries, etc.  Think of it as a really really big swap meet.  It was way too crowded for us to really enjoy it but we did enjoy watching the hustle and bustle of the market.
Next we decided to take a visit Independence Square which contains monuments to Ghana's independence struggle.  While location scouting we ran across the Accra Sports Stadium which was surprisingly open to anyone to visit.  We knew we would have to shoot here at some point – it would take much more effort to get access to this type of location in the US.  
Since we were staying in Osu, we loved roaming around the streets visiting restaurants, shops and of course the street vendors.  Street vendors in Ghana are relentless so be prepared to shop (and bargain) while you are there.  There were so many awesome things to buy.
One of our favorite restaurants in Ghana was a cool little spot called Buka.  Nice spot with a Carribean feel and live music.  We were finally able to try some of Ghana's famous Jollof Rice which was amazing (if you like spicy food).
For a little break, we ventured off to Labadi Beach which is one of Ghana's top beach tourist destinations.  This beach can get a little crowded so if you have a little more time we'd recommend heading to some of the other beaches around such as Kokrobite beach. I'd say this beach is more fun for people watching than relaxing.  Horse rides and rastas are common at Labadi beach so it's definitely a different beach experience from the norm.
We were given a tip from a local photographer to check out a small town in Ghana called Jamestown – one of the oldest (and poorest) districts in the city of Accra.  The district was once the hub for a succession of Portuguese governments, before the city became the capital of the British Gold Coast.  Despite the apparent poverty, the quarter still makes for a safe and friendly place through which to wander during the day. More than anywhere else in Accra, there's an evident sense of community. We fell in love with the wooden boats the fishermen were making.  Photographer win!
While wandering around the community we spotted a small school in Jamestown and decided to check it out.  We were still in need of one more model for our shoot so we figured maybe we'd get lucky.  Lucky doesn't even explain the gem we found.  While visiting the school, the principal – Mr. Okai was kind enough to talk to us and show us around the school. Christ the King of Kings Preparatory school was built in 2011 by Dr. Immanuel Ojo to help improve the education situation among students in the Jamestown area.  We spoke to the principal about the project we were working on and the principal shows us some of the students attending his school (which went from babies to middle school aged kids).  One girl stood out from the rest – Rebecca.  We were floored with this beauty and knew we had to have her for our shoot.  She was everything we could imagine and more.  The principal allowed Rebecca to go get her mother so that we could get permission to photograph her the following weekend.  Her mother agreed and we left Jamestown smiling from ear to ear knowing we had found our gem.  
Before I move further, let me just emphasize that the condition of this school is definitely not the norm in Ghana.  There are several more affluent schools that look more like the school below.  Just like our visit to South Africa, there are two sides to Ghana so we would be doing an injustice to only show one side.
On our shoot day we were one big ball of nerves.  Even though Rebecca's mom had agreed to participate in the shoot, would they actually show?  We had no way of contacting them and our shoot day was on a weekend so we knew the school would be closed.  We were prepared to search this town for Rebecca if they did not show, LOL.  When we arrived we ventured along the community to figure out which areas we wanted to shoot first.  Next thing we know, we see Rebecca running up to us on the beach (like in the movies) with a huge smile on her face.  She had probably been waiting around all morning for her big opportunity.  We were thrilled.  The next obstacle was to see if the clothing we had would fit since we were not able to do a fitting before – to our surprise the clothing fit perfectly on her and we now had a supermodel in the making.  Divine intervention indeed.
During our shoot the local kids in the community decided to tag along to witness Rebecca shine first hand.
It was a little weird having an entourage following us around during our shoot, but we fell in love w/the kids in Jamestown.  Definitely one of the highlights of our trip.  
We gifted as many of the leftover clothes from our tour as we could to the kids (and Rebecca) and they had a field day with the new gear.  🙂
We also caught up with my old college friend Theodore from my first trip in Ghana.  Theodore lives in Ghana and was gracious enough to tag along during our shoot.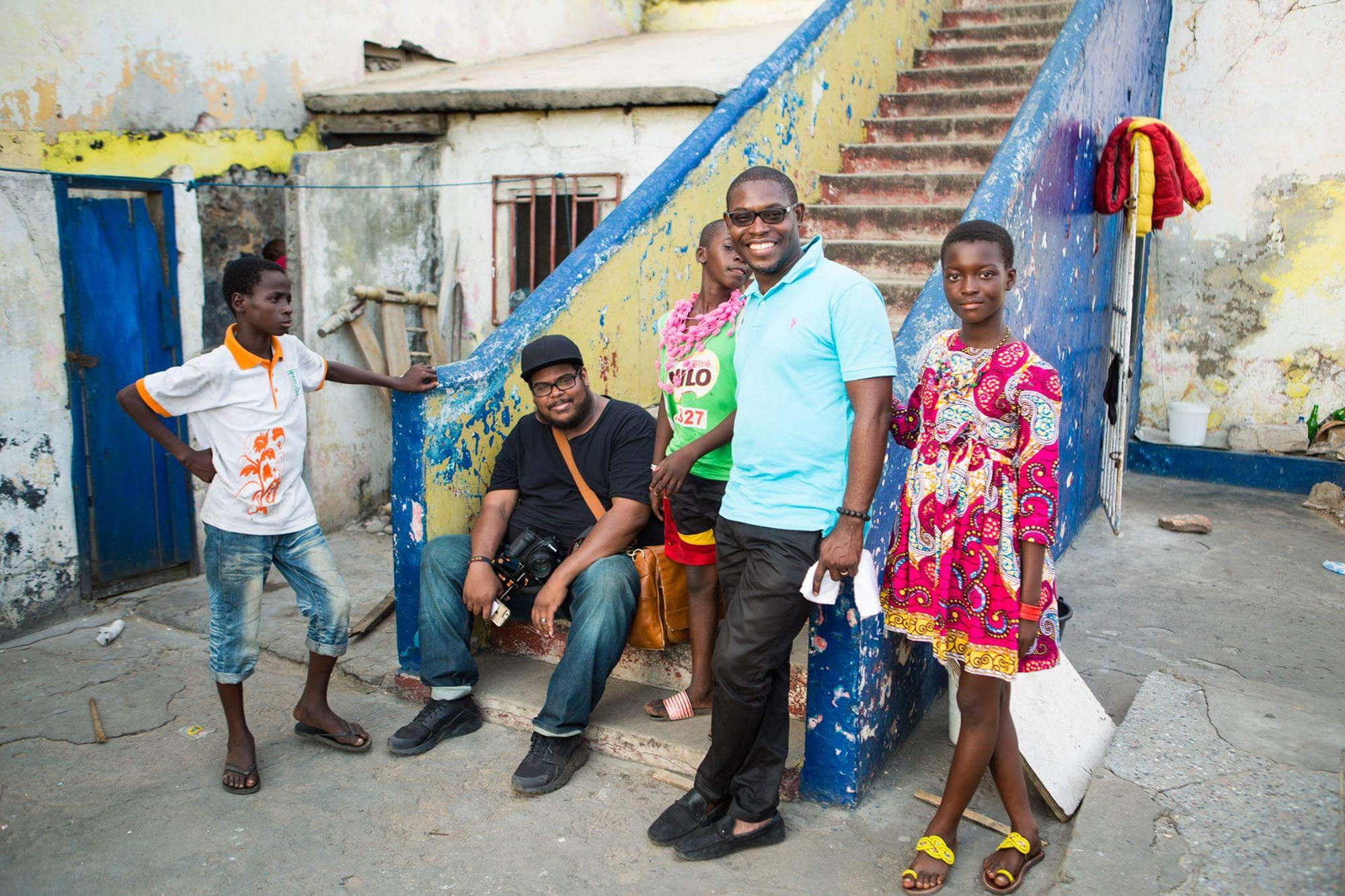 Just check out this little superstar.  Rebecca looked like a baby Lupita Nyongo that day and it melted our heart to see her shine.  An amazing experience that we will never forget.  Rebecca's first dress was designed by Kiki Clothing – a popular clothing boutique and designer in Accra.
 The shot below is symbolic in so many ways.  We wanted to capture this little beauty rising above her situation and showing the world a little of that #blackgirlmagic that shines within.  I love that the kids sitting are still confident in their stature to show that they still walk beside and not behind.  
Where did all this confidence come from?  We were completely in love with this girl. This Alexandria Olivia dress was equally as gorgeous on her. 
 The next day we did a little shooting in Osu with our model Dubi.  Dubi is a sweet Ghanaian tween girl so we wanted to use the colorful buildings in Osu to highlight her vibrant personality.  The talented folks at Kiki Clothing also made Dubi's custom modern dress.  
You know we had to use this colorful building spotted during our location scouting in Osu.  🙂 
Dubi also sported this throwback Isossy Children dress which went perfectly with her skin tone.
Our very last shoot in Ghana ended up being with triplets!  Yes triplets!  This was our first time even meeting triplets – let alone photographing them.  We decided on a stylish soccer theme since soccer is a popular sport in Ghana.  We wanted this fashion story to highlight modern African style using Isossy Children's playful styles.
Wow, so 33 days, 7 countries, 14 shoots and 30 kids later we survived and lived to tell the story!  This trip was an amazing experience that we will never forget.  We are so thankful to have had the opportunity to experience a little more of the world (our own way).  We have a few more countries to visit to finish up our tour and will be sharing them with you guys periodically as we visit.
Photography: CreativeSoul Photography
Hair: Twists n Locs Salon
Clothing: Kiki Clothing, Alexandria Olivia, Isossy Children
Models: Rebecca, Dubi, Janelle, Jayla, Jamie